On the 29th of December 2015,  the final whistle sounded as  tired Manchester City and Leicester City players shook hands and walked off the field. The match ended in a grueling, yet entertaining draw. Despite 68% of the possession being dominated by Manchester City, Leicester City held their own against a team which never fails to challenge for the title. If the match proved anything, it was that Leicester City is not just Jamie Vardy and Riyad Mahrez. Leicester City is a team of hungry talented players who always fight for the win, whether their opponent is Aston Villa or Manchester City.
Enough about Leicester however. In the day prior, after a 2-1 win against Manchester City, Arsenal defeated Bournemouth 2-0. This victory, led by an assist and a goal by non-other than Mesut Ozil, put Arsenal at the top of the table on goal difference. Thus at the finish of half of the season, here are the current standings of the top four:
| | |
| --- | --- |
| | Arsenal |

| | |
| --- | --- |
| | Leicester City |

| | |
| --- | --- |
| | Man City |
The purpose of these extended standings is to compare Arsenal to its main competitors at the moment. They are all capable of scoring goals in great abundance. However, a statistic that stands out about Arsenal is that they are in they sit at the top of the Premier League table with only three draws. What this indicates, is Arsenal's ability to win matches and to not settle for draws – a trademark of any championship winning a team. With Arsenal's speed and creativity, Arsenal has become  a team that has no shortage of options to either score or hold on to the game. Unlike Leicester, the lack of draws for Arsenal this season, demonstrate how well the team gives away a lead and how capable they are to secure matches.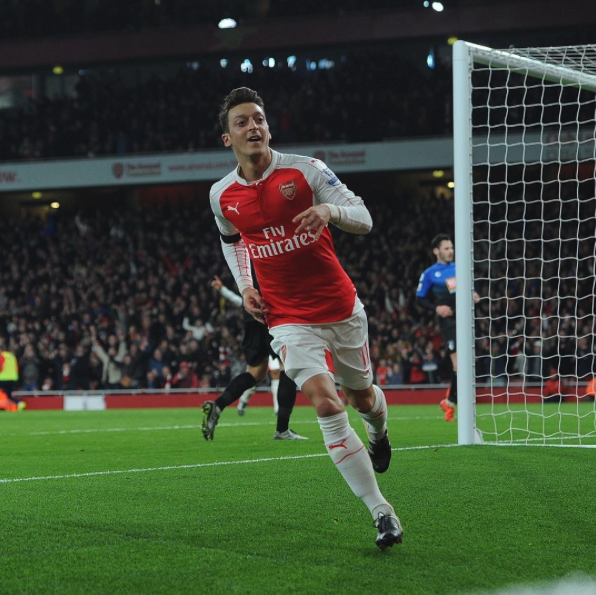 Additionally, the current Barclays Premier League table is currently worth mentioning due to the fact that when Arsenal last won the league (meaning the 2001-2002 season, excluding their invincible season due to it being a complete anomaly), at the halfway point (December 30th, 2001), the team had two draws and three losses. This statistic relates to Arsenal in a draw being their least common result. This Arsenal side also rarely gave away a winning position and was frequently able to hold on to the lead.  Moreover, that Arsenal side that went on to win the Premier League that season had thirty-nine points at that point in time. This goes to show, that at the moment, Arsenal is exhibiting characteristics of a championship winning side.
Not only do Arsenal's statistics and play on the pitch hint at Arsenal's return to Premier League glory but also, that same season (2001-2002), Thierry Henry was involved in 29 goals (24 goals, 5 assists). This season thus far, Ozil has been involved in 18 goals (3 goals, 15 assists). The following season, Thierry Henry set the assist record (20 Assists) for the Premier League. At the moment, as you all known, Mesut Ozil is very quickly and seamlessly closing in on that record. At this point, Ozil has 15 assists after 17 matches played in the Premier League. Meanwhile, at the end of the season, Henry finished with 20 assists. The purpose of mentioning Henry's record is in order to emphasize that Arsenal has exactly what they need to win the title: a talisman and a catalyst. Arsenal has always needed someone that can come up with a moment of brilliance and create a chance to win, Ozil is now that man.
Now, Ozil is definitely not the whole package that Henry was but nevertheless, if there will be an Arsenal goal in  a match, Ozil will most likely have something to do with it. With 44 contributions (assists and goals) in Arsenal's 2002-2003 title winning season, Henry was a key point winner. Ozil is this point winner that Arsenal needed. With Alexis Sanchez soon returning from injury and Giroud racking up goals, Ozil will have no shortage of options through which to create goals.
All of the points previously made are stated to point to the fact that this is Arsenal's year to win the title. With Teams such as Liverpool, Everton, Chelsea, and Manchester United not being threats to their title race this season, the Gunners look set to seriously challenge for the Premier League. With City constantly underperforming, and Leicester being seriously likely to lose form, it is up to Arsenal to win the title.  This of course, as all Arsenal fans currently know, is Arsenal's greatest problem. When Arsenal is given an opportunity top the league, they almost always fail to take it. Thus, the success of Arsenal come down to the one question it always has: can they be consistent? This goes back to the point of Arsenal being able to grind out results. If Arsenal can put that resolve and grit into the cruical matches, surley, this is there year to win the league.